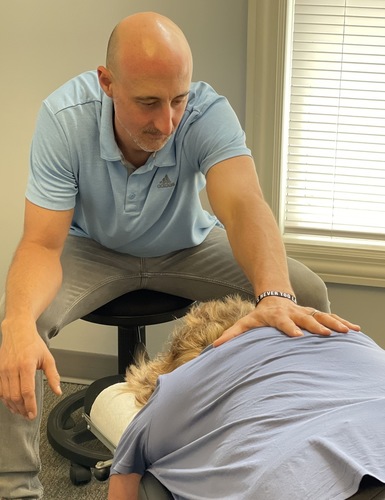 Head chiropractic physician at The Hart Wellness Center. Dr. Hartmann was born and raised in the Homewood-Flossmoor area. He was a graduate of Homewood-Flossmoor High School where he became a 6-time state champion gymnast. He went on to attend The University of Illinois at Champaign-Urbana on a Chick Evans Caddy Scholarship where his major was Sports Medicine and Kinesiology.
He then attended The National University of Health Sciences in Lombard, Illinois. He was awarded a second Bachelors degree in Human Biology and eventually went on to receive his Doctorate in Chiropractic Medicine. He has been practicing the science, art and philosophy of chiropractic locally for nearly two (2) decades.
From a body-up perspective, Dr. Hartmann specializes in the treatment of disc problems of the neck and lower back, issues of both the upper and lower extremities and uses innovative ways to bring healing to difficult cases of all types. He is credentialed by the International McKenzie Institute and practices the McKenzie Method of Mechanical Diagnosis and Therapy. He performs Functional Dry Needling and is also full-body certified in Fascial Distortion Model.
From a brain-down perspective, he practices the World of Hurt principles of pain science classification system and has obtained certification in Zone Technique. He uses breathwork, both personally and professionally to bring miraculous healing to himself and to his patients. Dr. Hartmann's philosophy in practice is simple…fix every single patient as efficiently as effectively as possible from whatever ails them. Resuts mean everything.
We will work to FIX your symptoms and heal you from just about anything under the sun as fast as possible; so that you can get you back doing the things that you want to do with hesitation. For every new patient that enters our office, we expect, just short of a promise, complete resolution of whatever ails you in less than 6 visits.